Tammy Marshall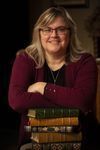 Full Name: 
Tammy Marshall
City of Residence: 
Neligh
Biography: 
I have lived in Nebraska my whole life. I have two grown kids (one's a P.E. teacher and coach and the other is a paleontologist), and I have been the host mother to seven exchange students. I'm a retired high school Spanish and English teacher -- I left teaching after 30 years to devote myself wholly to my writing career. I am a proud member of the American Legion Riders (I own and ride a Harley-Davidson), an avid reader and traveler, a stand-up comedian, and a painter. I started doing water color painting a couple of years ago and found that I have a knack for it. I also love to swim, and I've swum twice (so far) with whale sharks off the coast of Mexico. I speak at libraries about my books and my writing journey and have come to focus my speeches on the topic of "It's never too late to go after your dreams . . . until it's too late." I would love to speak at your next event!
I have four self-published books. They are The Clearwater House, copyright 2016, State of Georgia . . . and Other Writings, copyright 2019, Ticker Tape, copyright 2021, and Twinges, copyright 2021.
Published Works: 
I write a long-running regular column about books and book-related topics called "Novel Thoughts." It appears in the Norfolk Daily News on the first and third Wednesday of each month, and in the Bristol Herald-Courier (out of Bristol, VA/TN) on two Sundays each month. I also write feature articles for the Norfolk Daily News from time to time. My four books (mentioned above) are available for purchase through Kindle (or to read via a Kindle Unlimited subscription) or in paperback through Amazon as well as in-person through me. I have a blog dedicated to my three main passions of reading, riding and roaming. It is called Read, Ride and Roam With Me! and can be found at readrideandroam.blogspot.com. I have another blog which originally was only going to contain sarcastic snarky pieces, but I believe I have more serious things on there than humorous. The name of the blog, though, is Shtick This! and it can be found at shtickthis.blogspot.com. I also have two Substack publications -- one devoted to vocabulary building called Cognate Cognizance, which is found at cognatecognizance.substack.com, and a second devoted to memoir pieces and portions of my fiction and poetry called Tomes and Topics, which is found at tomesandtopics.substack.com. I have a fifth book that is nearly finished and others in the works.